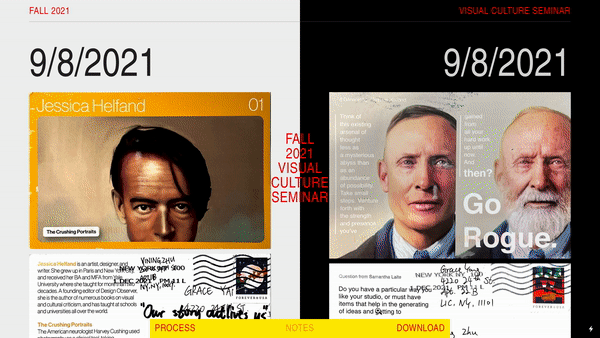 [How it started]

This project started with a series of guest lectures we had throughout the semester of Fall 2021. Yining and I enjoyed the speakers and wanted to create something to reflect each one of them. We both come from a graphic design background, and we both love prints, so we wanted to explore the possibilities of physical body of prints.



[Process]
We organized ideas that resonated with us and included them in the designs. Then, we printed and mailed the set of cards to each other. After receiving the cards, we wrote notes on the back to reflect our inspiration from the lectures. After all, we created this website
postcardvisualarchive.com
as a visual documentation archive of the postcards design process.
[End]

When the postcards traveled from one person to another, they carried not only the physical copy but also the thoughts behind each design and the artistic philosophy from the guest speakers. And because of the openness of a postcard (without an envelope), this communication is not only between Yining and me. It is open to the public. We also made the original designs available for download on the website and hope the conversation will continue...