Poshmark
Feature Design

This new feature for textile recycling helps people recycle clothes in unsalable conditions through the secondhand online market - Poshmark.

Solo project
Ecommerce - Product strategy

Duration
6 weeks

Practiced
User research
Product research
Prototyping
Usability testing



01 Problem Discovery
Primary Research
7 % of the average U.S. consumer's wardrobe consisted of resale clothing, a proportion that was expected to rise to 17 percent by 2029 (Statista.com).

Even though many Americans donate clothes, textiles still make up a shocking amount of the U.S. waste stream (Chart: greenamerica.org).
Clothing is the most common item bought secondhand. But what happens to clothes that are third-hand (and more) in unsalable conditions?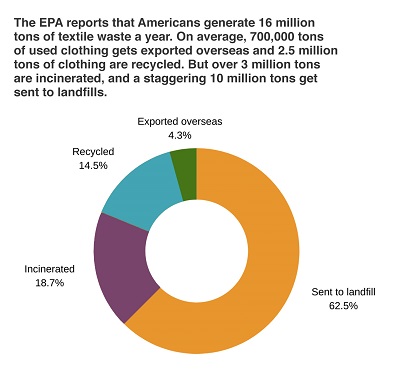 App Selection
Poshmark is a leading social marketplace for new and secondhand styles for women, men, kids, the home, and more.
What's special about Poshmark:
Wide range of customer population, across generations from baby boomers to Gen Z.
Diversity of the source of items (fast-fashion, department store, value chain, online brand, luxury and more).

Current Features on Poshmark
Poshmark offer various features to help users make sales and grow their business.
They also have a list of tools to give users a smooth selling experience.
See
Your Complete Guide to Poshmark's Features & Tools
Competitive Research
Some well-known online secondhand marketplaces include Mercari, Offerup, Marketplace, Depop, and The RealReal.
These platform offer a wide range of items for sale, electronics, vehicles, home goods, etc. Clothing is only a segment in the market.
Depop target the younger crowd, and the items they sale are more fashionable. The RealReal target consumers of luxury good. Both markets have a higher resale rate.
And...none of them offer solution for items in unsalable conditions.
02 User Interview
For the initial user research, I interviewed two Poshmark sellers and three buyers. The goal of these conversations was to d
iscover how users are currently using Poshmark. I also want to u
ncover how users handle their clothes that were listed but weren't unable to make a sale.
Here are some of the highlights from the interview synthesis.
Meta Insights
There is a demand for the recycling feature from both buyers and sellers.
Users who live in large city, rely on public transportation, need a convinient way to transfer their recycle items to Poshmark.
User will need some education on this new feature, for a smoother onboard experience.
! The Design Challenge

How might we help Poshmark user recycle unsalable items through the mobile App?
03 Ideation
User Flow
To help user pick up the new feature quickly, I adapted a similar user flow to food delivery services, where user fill out the details about their order, provide address and contact information, then wait for the delivery. In my case, user will wait for an Poshmark agent to pick up their recycling package.
*I added the reward bazaar in addition to the flow to encourage people use the feature. The user will get some reward points after their recycle is complete. They can use these rewards to redeem a gift of their choice on Poshmark.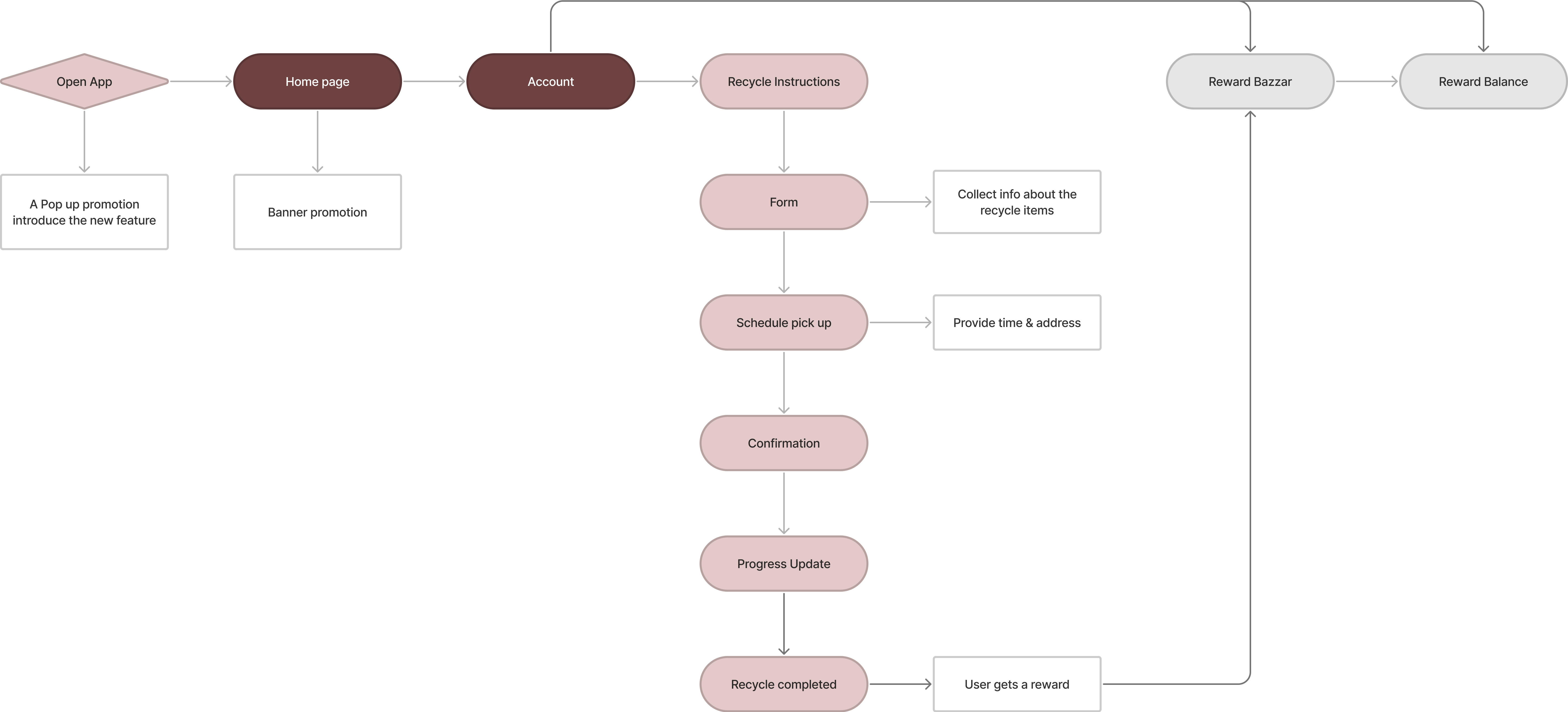 Industry Audit
I used some other ecommerce platform as reference for the key frames to help user navigate through the landing page, address and time selection page.
Wireframe

In order to build out the prototype, I identified ten key frames and started sketching the low-fi wireframes to establish the basic layout and structures for each screen.
04 Prototyping
Mid-fi prototype
As I started transfering the low-fi wireframes to prototypes, I came to the conclusion that I needed to establish the branding and overall look of the feature in conjunction with the prototype.
I created mid-fi prototype in two primary colors, the burgundy was adapted from the original Poshmark branding, and I incorporated the blue to differentiate the recycling feature and for the aesthetic appeal.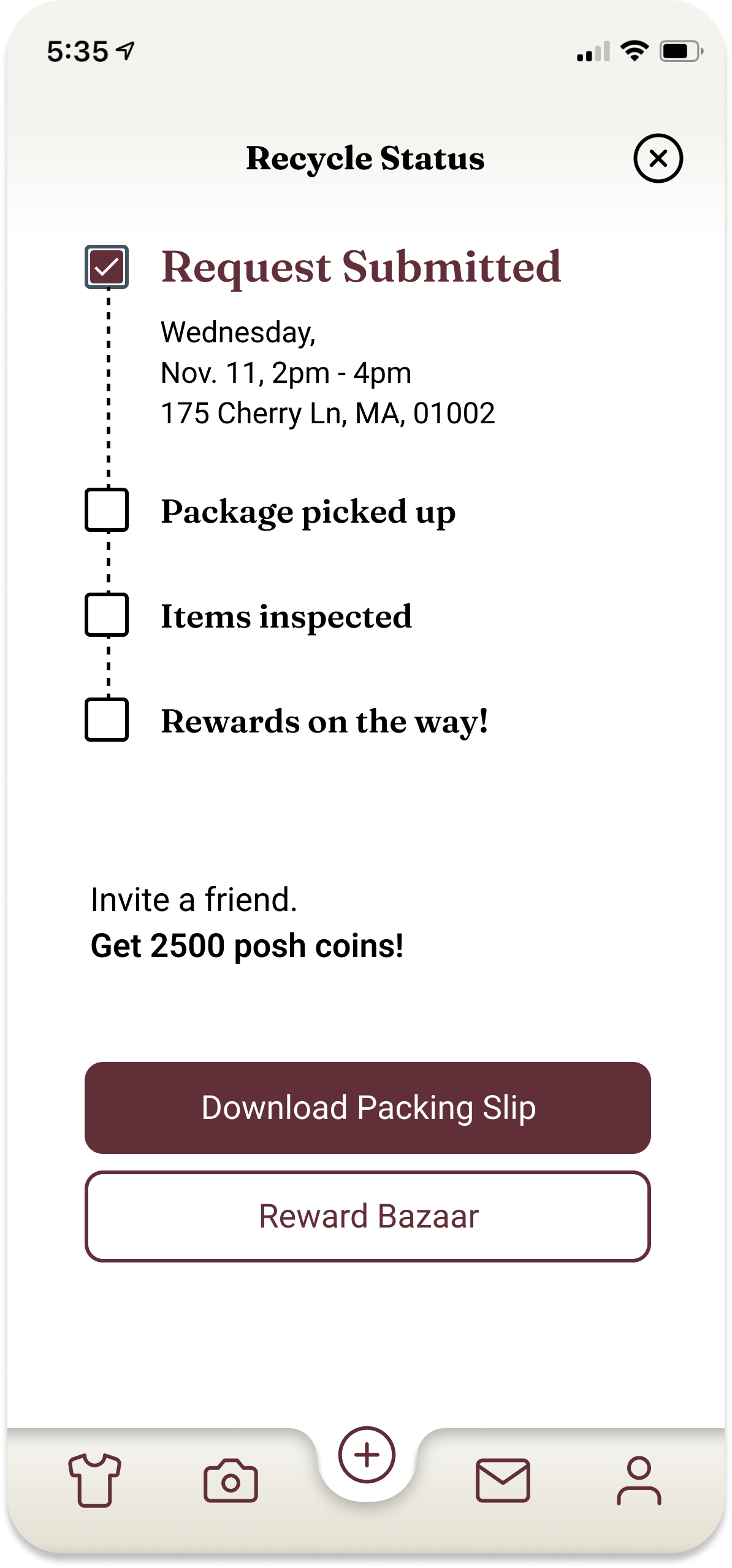 Here are the additional screens for each steps the user will take from learning the how the recycling feature works, filling out the request form, provide the detail of their items, and confirm the request, and finally track the shipping status of their items.
Some design decisions I made include:
How to introduce the importance of textile recycling to the users?

What does the user need to know about this new feature?
What kinds of information do I need to collect from the user?
What would happen after the user send out their items?
Brand Identity
To switch gears from prototype screens, I decide to work on the brand identity to prepare for the final design. I established the brand identity through a color system, typeface and some design components.

05 Usability Testing


I conducted usability tests after creating a clickable mid-fi prototype. In these tests, I asked users to try the complete feature flow by submit a reycling request, and use the reward coins to redeem a gift.

The feedbacks I received were positive overall.
Here are some iterations I did after the usability testing.
Adding illustration to help user understand the instructions, make the experience more enjoyable.
*Illustration credit: Surface by Treetop
Adding a dashboard to help user keep track of the reward status and history.
Choice to skip the instructions
For user who are familiar with the process, they can choose to skip the instruction in the future.
Feature introduction
Request form
Reward Bazaar
07 Thoughts and Reflection
I had a lot of fun designing this feature. I am a Poshmark user myself, and I also like buying secondhand to protect our planet, and bring my things to donation centers. I noticed that people were having problem with items listed in secondhand markets but weren't able to make a sale. I hope this feature could give people a peace of mind when they do the closet clearance.
During the last round of usability test, almost all of my testing users showed some excitement about this feature. I was glad to know that it is a feasible option.
The challenge I had was to incorporate Poshmark's branding into this feature. If I had more time, I would like to rebrand Poshmark mobile, such as brand visuals and the interface, and rearrange the information structure of the account page and navigation bar.
I would also like to work on the copywriting. Good copywriting is a huge plus for the user interaction and experience.